March 12, 2010
Sekelas Pondok Indah Mall bisa juga salah grammar
Waktu kami ke Pondok Indah Mall (PIM) bbrp bulan yang lalu, kami sempat heran melihat poster program Mercylicious yang sedang dijalankan PIM. Heran, karena grammar yang dipake agak-agak … hancur 🙂 Silahkan lihat fotonya (ini poster yang ada di pintu lift bagian dalam):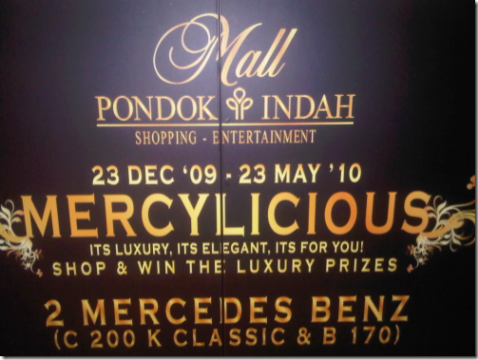 Tolong perhatikan tagline nya, and I quote: "ITS LUXURY, ITS ELEGANT, ITS FOR YOU!" Something is wrong here 🙂 Jadi, aku tanya ke my resident native speaker di kantor 🙂 Begini jawabannya:
They have 2 choices:

IT'S LUXURIOUS, IT'S ELEGANT, IT'S FOR YOU

or

IT'S LUXURY, IT'S ELEGANCE, IT'S FOR YOU

Two points:

Sentence wants to show "possessive" pronoun, therefore use the apostrophe
If they want to use noun, then stay consistent. If adjective, then stay with adjective. Do not combine.
Semoga menjadi perhatian bagi manajemen Pondok Indah Mall 🙂